Pirate is one of the many exclusive nanos that can't be obtained through normal playthroughs. This nano is not yet available to gxu community and hopefully will be released in Magic Cube form.
Nanobot Information
Edit
King of the sea, has a sharp pirate hook, blood-thirsty personality, and makes everyone shiver. No one wants to face this thing.
Recipe at: Shopping Town
Collectability: Rare
Attack Index: 98
Materials Needed
Edit
Vengeful Ghost Spirit (10)
Tang Blade Fragment (140)
Ziggly Tainted Blood (14)
Musy Tainted Blood (62)
Soul 10% (15)
Stab Core lv 3
Kill Unlock
Mob Kills: 290
Gp Consumption: ??
Strong stag power infused with universal energy
Equipped Form
Edit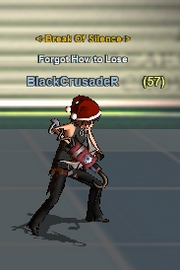 Huge thanks to BlackCrusadeR for showing us his awesome Pirate nano.